Mega-Rule Quick Reference Guide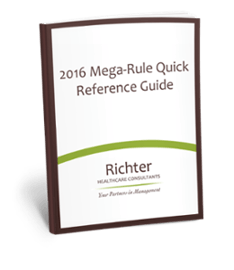 In September 2016, the Centers for Medicare and Medicaid released its long-awaited nursing facility "Mega-Rule" – also called the Final Rule – so named because it represents by far the most comprehensive revision of CMS' requirements for nursing homes since 1991.
The overarching goal of the Mega-Rule is to improve patient care and safety for the nearly 1.5 million residents in the more than 15,000 long-term care facilities that participate in the Medicare and Medicaid programs.
Our 2016 Mega-Rule Quick Reference Guide will help your facility to better understand the Mega-Rule and its specific components.
Fill out the form on this page to download your free guide.