FREE E-BOOK: QAPI—Your Guide to the New LTPAC and SNF Standard for Quality Assurance and Performance
In long-term post-acute care (LTPAC) settings, the only thing that is constant is change. There is, however, one process that endures—Quality Assurance/Performance Improvement, or QAPI.
Richter Healthcare Consultants' Clinical Consulting team works closely with our skilled nursing facility (SNF) and home health clients to provide education, technical assistance and support in the development of a QAPI program. Now, we have developed a new e-book that synthesizes our expertise with regard to all facets of QAPI.
Our e-book includes the following chapters: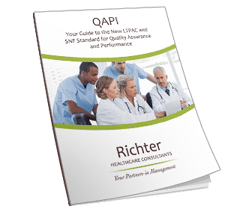 What is QAPI? Understanding QAPI Basics
The Five Elements of QAPI
The 12 Steps of QAPI
Implementing Performance Improvement Projects (PIP) as a Part of a QAPI Program
Implementing QAPI Program Planning and Processes
Case Study: How One Facility Uses QAPI to Overcome Significant Challenges
This new e-book contains many of the same recommended steps, checklists processes and deliverables we share with our clients in rich detail as part of our QAPI consulting services. It presents these concepts and learnings in ways that are designed to provide a strong basic overview of QAPI and its relevance to LTPAC facilities.
To download our e-book, simply fill out the form on this page.
To learn more about how our QAPI consulting services can optimize your QAPI program starting today, call Allison Wood at 216-285-0806.
Want to stay on top of the ever-changing LTPAC industry? Follow us on social media: